Surfing the web today is pretty much like watching TV or listening to the radio. It has become part of our everyday life. No matter where you are or what you are doing there will be someone on your path with a cell phone  or a tablet streaming video, music, reading a book or newspaper ...
The success of a technology is directly related to how "invisible" it is
The web wouldn't be what it is if we still had Gophers to find documents or WAIS to query databases ... just too complicated for the average Jo and Jane.
Technology is there and is shaping the way we live - a relentless change with sweeping permanent effects on how we communicate and organize our lives.
Eating entices the appetite
Our appetites for information drives  us to search and we have great expectations of the search engines to deliver just what we want in a fraction of a second by choosing from billions of documents - call this a challenge is an understatement to say the least.
The burden is on the search engines to meet our expectations come up with the "right" solution to our problems - but how good are we at offering our merchandise (=information) to these marvels of technology?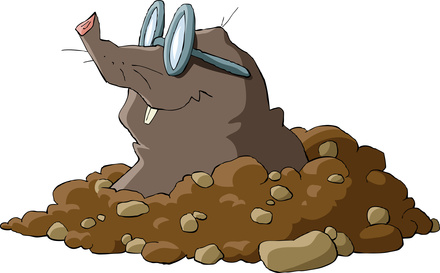 Image © dedMazay - Fotolia.com
Our search engines are crawlers: they retrieve, store and index web pages using a very large number of "signals" to evaluate the quality, but one essential dimension of this evaluation is totally missing: sentiment. They don't see our pages, they understand them - that's quite a difference.
If the Internet is the World Wide Web, search engines are the Magnificent Mysterious Moles, not spiders - another breed of animals. Moles live underground in tunnels they burrow themselves: as they live most of their life underground, they have no need to see well. Their eyes are small, and a layer of fur and skin droops over them. The search engines carve digital tunnels into our web sites exploring our content, analysing - both server side aspects as well as social interactions. It's important to "see" things their way.
Watching the Moles at work with Browseo
Browseo allows you to see a web page through the eyes of a search engine: no frills, no graphics, no emotions no sentiment; only information but no layout. Optimising the CMS and layout is still an important piece of the equation:
Important content should be offered to search engines with the highest priority
With Browseo you can focus on analyzing the pure content.
Navigational menus should be pushed below the fold of the page
You can see the actual position of navigation and content from a crawler's perspective.
Title tags and meta descriptions require a great deal of attention: well written personalized tags will help rankings and boost Click through Rates on the SERPs
Check out the SERP preview to determine what a page will look like in Google's search results.
Server Side responses need to be checked, and should always be 200 (OK) unless you are dealing with pages which have been redirected
Browseo lists all redirects of the URL you enter, even if there are multiple redirects in a row.
Visitors and search engines need to see exactly the same content
Use the fraud detection feature to determine if this is the case. Browseo even shows you the differences in detail!
These are just a few vital signals which can have a dramatic impact on your website performance – Browseo offers a birds eye view of your content management strategy and will effectively identify those critical areas needing improvement in a matter of minutes.